The City of Ryde and Macquarie University Partnership
Free Guided Walks Program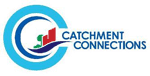 The City of Ryde, through its Catchment Connections project has teamed up with Macquarie University to run a Free Guided Walks Program throughout the university campus.
Members of the community are invited to stroll around the campus to learn about the University's 'hidden secrets'. Professional tour guides share their expert knowledge in:
local heritage
plants, birds, bugs
outdoor sculptures and other artworks
museums and collections
campus initiatives which seek to enhance sustainability around Mars Creek
Here's a sample of what's on offer in the year ahead:
More about the Free Guided Walks Program: City of Ryde website.

John Petrie - Bridge, 2003
steel and timber
Photography: Jennifer Farrer

Bushcare@MQ
Photography: Iain Brew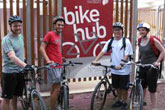 Macquarie University bike hub
Photography: Iain Brew