Research on the rise
6 December 2012
Eighty-five per cent of research performed at Macquarie University is rated at or above world standard according to the Australian Government's 2012 Excellence in Research for Australia (ERA) analysis, released today.
This figure has risen from 71% since the first ERA exercise, performed in 2010.
"This improvement indicates to me that we have consolidated our overall position as a research intensive university of international standing," said Deputy Vice-Chancellor (Research) Professor Jim Piper.
Particular areas of research strength at Macquarie include the disciplines of earth sciences, physical sciences and environmental sciences, which achieved the maximum rating of five, representing research performance "well above world standard" for the second consecutive time.
ERA is designed to assess research quality within Australia's higher education institutions. It awards each research active discipline at each university a rating on a five-point scale, where 'three' is world standard.
The rating is based upon research data, particularly publications, but also including awards, grants, income from industry and research commercialisation, and patents.
More information about the ERA initiative and about Macquarie's performance can be found at http://www.arc.gov.au/era/era_2012/outcomes_2012.htm
Filed under: Research Uncategorized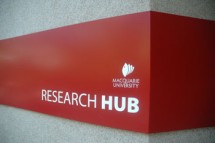 View by category