New science prize to honour gifted student
6 December 2012
The Faculty of Science has announced a new undergraduate award to be known as the 'Brendan Searle Prize'. Open to biology students, the prize will honour gifted science student Brendan Searle, who passed away in August this year.
The award will recognise the struggles that Brendan faced and his ability to find solace in education. Brendan, who suffered from a major depressive disorder, studied a Bachelor of Science at Macquarie from 1994-95. Due to health issues he suspended studies but returned in 2010 until his untimely death.
The Dean of Science, Professor Clive Baldock said "Brendan excelled in biology and was awarded the Mollie Thompson 100-level Biology Award during his last year at Macquarie.  We hope the 'Brendan Searle Prize' will inspire other students to achieve to their full potential in science."
Brendan's parent's Derek and Rhonda Searle generously donated the funds to start the prize, which will be awarded annually on merit.
Filed under: Science & nature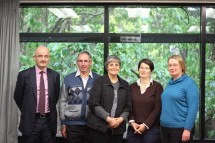 View by category