Prestigious international honour for environmental education leader
19 September 2012
Wendy Goldstein from Macquarie University's Graduate School of the Environment has been presented with the 2012 Paul F-Brandwein Medal for a lifetime commitment to conservation education.
The medal was awarded in partnership between the Brandwein Institute in the US and IUCN Commission on Education and Communication and presented at the IUCN World Conservation Congress in Jeju, which is held every four years.
Goldstein has had a long career educating for the environment, particularly from her time at the NSW National Parks and Wildlife Service beginning in 1973. From 1991 to 2005, Wendy worked for IUCN, the International Union for Conservation of Nature, at Headquarters in Gland, Switzerland. She was Head of Environmental Education and Communication and managed an international program of the IUCN Commission on Education and Communication (CEC).
She took part in formative international discussions on education for sustainable development at the UN Conference on Environment and Development 1992, the World Summit on Sustainable Development 2002 and the UN Commission on Sustainable Development. She has been involved in developing capacity for biodiversity communication, education and public awareness in association with a number of environmental conventions such as the Conventions on Biological Diversity; Ramsar Wetlands and Climate Change.
Goldstein is a former Vice President of the Australian Association of Environmental Education, a member of the IUCN World Commission on Protected Areas, a former community member of the Sustainability Advisory Group of the Lane Cove Council in Sydney, and Deputy Chair of the IUCN Commission on Education and Communication (2009-2012).
IUCN is the world's oldest and largest global environmental organisation, with more than 1,200 government and NGO members and almost 11,000 volunteer experts in some 160 countries.
Filed under: Campus news Learning & teaching Science & nature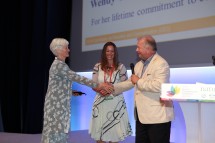 Media contact
0417 590 601
View by category