Macquarie named Australia's best young university
3 June 2012
Macquarie University has been named Australia's highest-ranking university in two reports published in the last week. Both QS and Times Higher Education placed Macquarie first among the nation's universities under 50 years of age.
Although the rankings use different methods to produce their results, both agreed that Macquarie led the nation's modern universities in areas including research, teaching, innovation, graduate employability and international outlook.
Internationally, the QS 'Top 50 Under 50' ranked Macquarie 16th in the world, while the Times Higher Education '100 Under 50' rating placed Macquarie at joint-33rd globally.
Quoted in the Times, Andrew Oswald, professor of economics at the University of Warwick and a visiting fellow at the IZA Institute, Bonn said "These results are interesting because they give us a glimpse of the likely future Harvards and Berkeleys. Most empires eventually crumble, especially those that think it could never happen to them, and once upon a time both Harvard and Berkeley were derided as Nowheresville."
Macquarie's emergence as a university of international significance despite a relatively short history is partly due to investing in areas of research excellence. The success of this strategy has been confirmed by the Australian Government's evaluations, with five research areas rated five out of five, indicating performance 'well above world standard'.
In the past two years, Macquarie University has invested heavily in facilities and infrastructure, building the most technologically advanced hospital in the country; the Australian School of Advanced Medicine; a state-of-the-art library featuring the only robotic storage and retrieval system in the southern hemisphere; and the Australian Hearing Hub (due for completion at the end of the year) that will bring the nation's hearing research and treatment agencies together on the campus.
Filed under: Campus news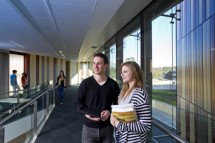 View by category