Professor Simon Foote to lead Australian School of Advanced Medicine
4 November 2011
Professor Foote will commence his new role at the beginning of February, and said he was "looking forward with excitement" to joining Macquarie.
"The position is appealing as I am keen to build up and strengthen the strong base of medical research at the Australian School of Advanced Medicine," he said. "I am impressed by the foresight of the University in building a University Hospital and believe that this will allow the positioning of Macquarie at the forefront of clinical research in Australia and I look forward to being part of this development."
About Professor Foote
Professor Simon Foote obtained his medical degree in 1984 at the University of Melbourne, Australia. In 1989, Professor Foote completed his PhD in Molecular Genetics, studying the genetic basis of drug resistance of the malarial parasite.
Professor Foote then worked at the Genome Center at the Whitehead Institute, Massachusetts Institute of Technology, where he produced the first physical map of a human chromosome and then a map of the entire human genome. Moving back to Australia, he became the head of the Genetics and Bioinformatics Division at The Walter and Eliza Hall Institute of Medical Research in Melbourne. He was appointed Director of the Menzies Research Institute in 2005. In 2010 he received his DSc from the University of Tasmania and was appointed the prestigious title of Distinguished Professor in recognition of his outstanding academic achievements.
Professor Foote's research involves the study of genes involved in susceptibility to disease. He has significant interest in finding the reasons people die from parasitic diseases, particularly malaria, as well as in mapping genes predisposing people to cancer, multiple sclerosis and epilepsy. His current research encompasses several projects including working with the Tiwi people to find genetic associations with renal disease that affect many aboriginal communities, and his laboratory is working on developing new antimalarial drugs, using genetic analysis to identify candidate host target molecules, a project that has developed from his laboratory's research into the host-response to malaria.
About ASAM
The Australian School of Advanced Medicine is the first school of its kind to offer sub-specialty, post-fellowship training in a private teaching hospital on a university campus.
The school provides an innovative competency-based education program featuring "hands-on learning" for surgeons and physicians. We are proud of our new facility located in the Macquarie University Clinic building which includes a state of the art surgical skills anatomy laboratory centre and simulation centre with sophisticated audio-visual equipment.
The Australian School of Advanced Medicine also boasts a prestigious research centre with 70 PhD students working alongside a team of leading scientists.
Filed under: Other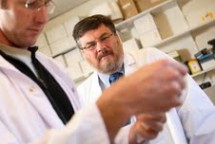 View by category